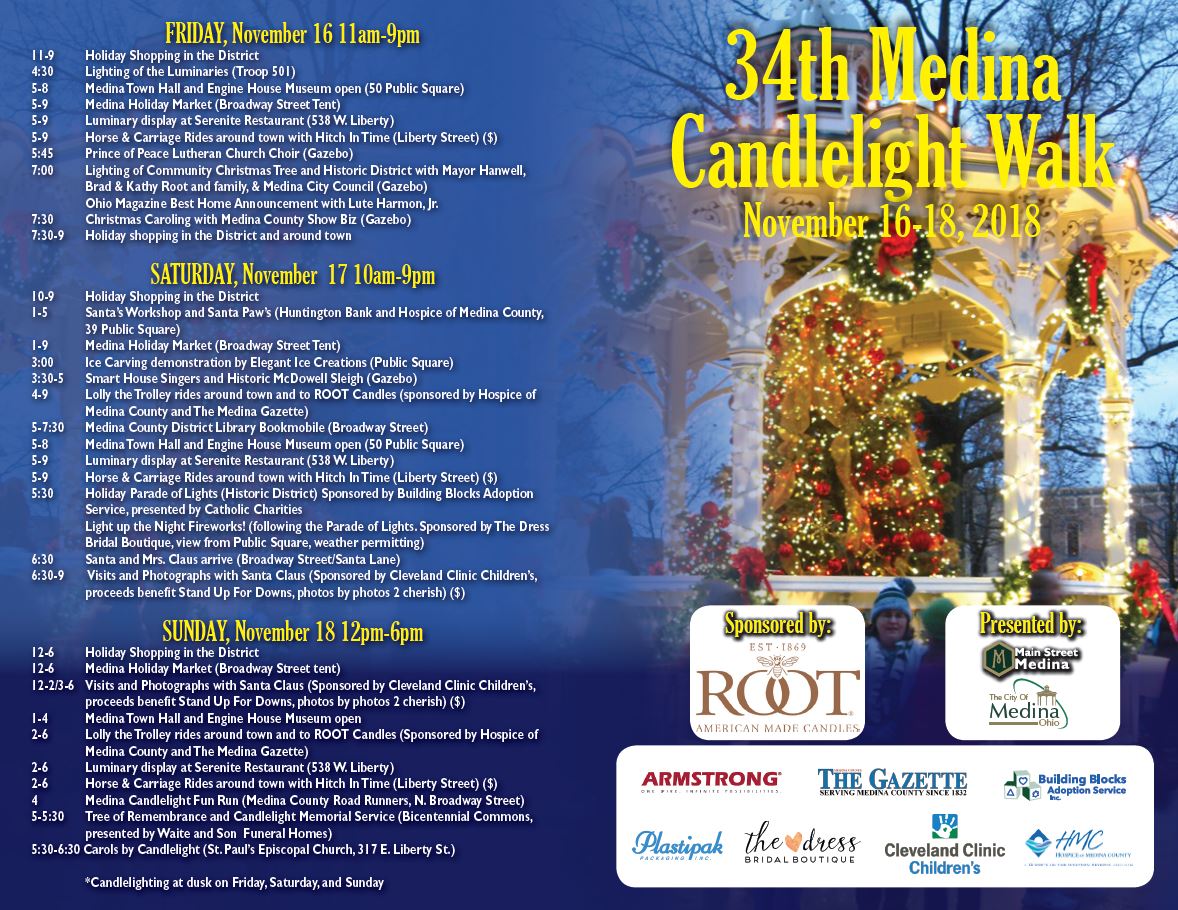 34th Annual Medina
Candlelight Walk
​November 16-18, 2018
Join Root Candles and Main Street Medina in celebrating the 34th year of Medina's Candlelight Walk - Northeast Ohio's kick-off to the holiday season!
The holiday season kicks off November 16-18th, 2018, as Main Street Medina, the City of Medina, and title sponsor, Root Candles, presents the 34th annual Medina Candlelight Walk. This annual, three-day event, always held the weekend before Thanksgiving, features a community Christmas tree and district lighting, live choral entertainment, an outstanding Holiday Parade of Lights, fireworks, visits with Santa Claus, and great shopping. New this year will be an expanded Medina Holiday Farmers Market and Christkindlemarkt on Broadway Street, a 5k Fun Run by the Medina County Road Runners, and the Candlelight Walk Mr. and Miss Main Street Medina Pageant. More information and participation forms may be found at www.mainstreetmedina.com.
Candlelight Walk involves more than 150 volunteers, 750+ volunteer hours, 1,500 luminaries, 5,000 votive candles, 15,000 Christmas lights, a truck load of sand, a 13' Christmas tree, a 60-unit parade, 62 holiday flags, and lots of coordination. The majority of the event is paid for through generous financial support from major sponsors, as well as numerous sponsorships from the businesses of the historic district and members of Main Street Medina.
The three-day holiday kick-off begins on Friday, November 16th, with the much-anticipated lighting of the district, featuring special guests Mayor Hanwell, Medina City Council, and the Root family. Pageant contestants will be introduced, and a special presentation will be made by Ohio Magazine in honor of our bicentennial.
Saturday, November 17, will be a day of community fun, beginning with the amazing Holiday Parade of Lights, presented by Catholic Charities. At 5:30pm, over 60 parade floats, cars, trucks, and even people covered in lights will make the mile-long trek down the parade route from Medina High School to Public Square. Mayor Hanwell and Santa Claus will round out the parade as Santa takes up residency on Broadway Street in his Santa house. Santa will be available for photographs on Saturday evening and throughout Sunday. The pyrotechnic spectacular, Light Up The Night Fireworks, will be launched from the top deck of the County parking deck behind the County courthouse at the conclusion of the parade. The show is best viewed from Public Square or surrounding blocks. The Mr. & Miss Main Street Medina Pageant will be held from 11am to 2pm at Williams on the Lake.
On Sunday, shops and restaurants will be open for holiday shopping and dining. The Medina County Road Runners Holiday 5k Fun Run will take place at 3pm, and the Medina Holiday Farmers Market and Christkindlemarkt will be open on Broadway Street until 6pm.